Hey! This is the only place I figured I could get info for this car since you guys have them:) I picked up an evo 7 in Canada. I found it in a forest about 2 hrs out of the city and pulled it home.
It's been sitting for 4 yrs and was being parted out due to a mechanic screwing him around apparently so he started to part the car.
It's missing a lot of stuff and I'm hoping to find some stuff here
like the whole body harness was sold from the interior of the car
I found a hood and a bumper locally surprisingly but from an 8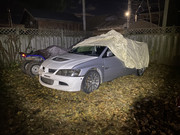 Edited by Hrvat9, 25 November 2021 - 04:10 AM.