Bazeng's MMC Galant AMG
Photography by Tangcla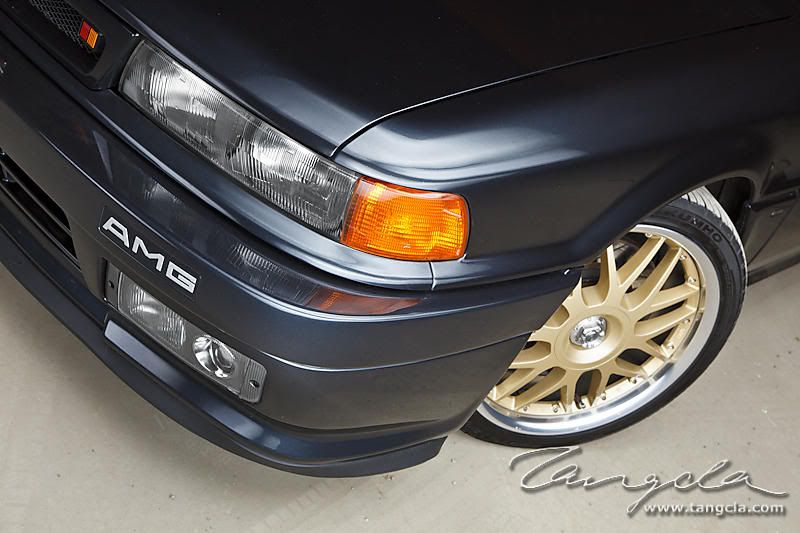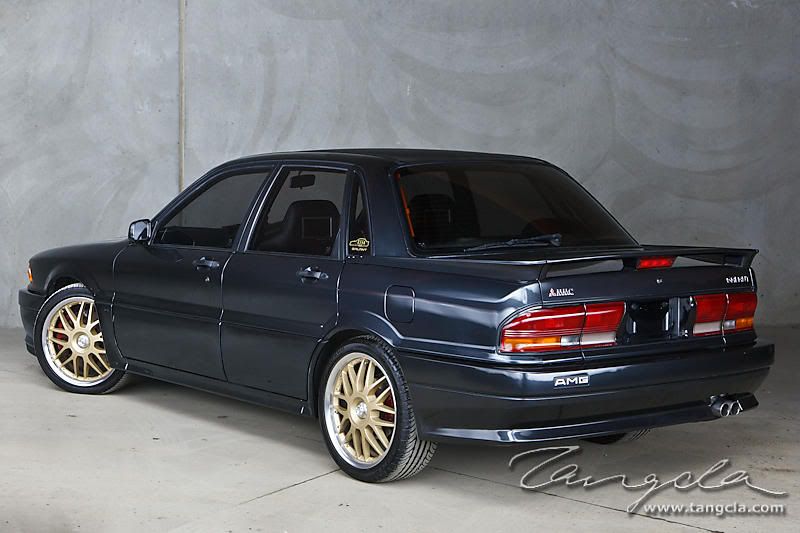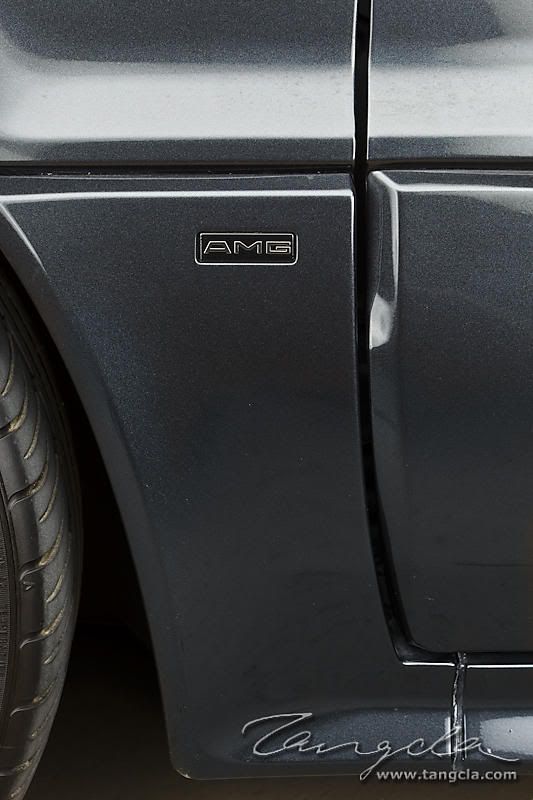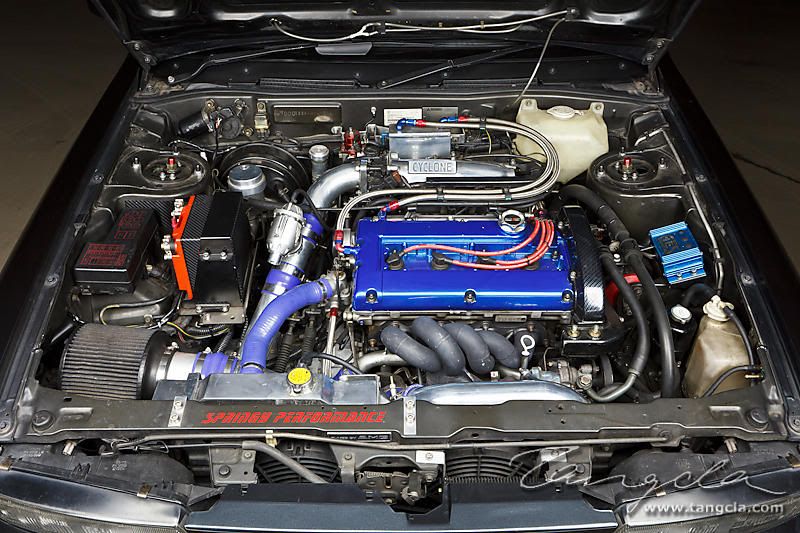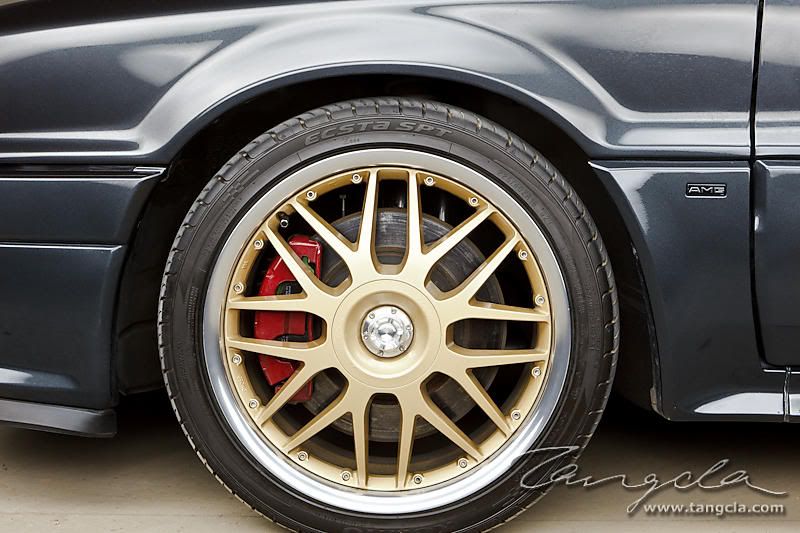 4GT: Is the galant a Genuine E33A (AMG)?
Bazeng: From what I have read, AMG was an independent tuning company and was trying to break into the Japanese market before becoming the AMG as we know it today. They were released significantly different to the VR4 galants that were being sold in Japan at the time. They were originally released as an NA FWD (4g63 AMG TUNED engine) with leather / woodgrain & a unique body kit. This one came with a CD player also!! Not bad for an '89 model!
4GT: How did you manage to find one!?
Bazeng: I was looking for a clean daily driver and always wanted an AMG. I was looking at importing one from Japan but was lucky enough to find one already in Australia. I had Jase inspect it for me at Adelaide Jap Imports for exchange of some parts. He kindly inspected and gave it the all clear. I had it delivered to Melbourne and drove it home on a permit without any issues.
4GT: The purpose behind this build is quite different to your VR4, what did you want out of the car at the outset of the build up?
Bazeng: It was left bone stock for approximately one year when the keys were handed over to my little brother, who purchased it and drove it around with a few basic mods such as muffler / rims / intake. The engine oil seals were showing signs of its age so we decided to take it off the road and give it a freshen up. I had a bunch of spare parts from my VR4 such as a 2.3L stroker forged bottom end, injectors, gearbox bits, big brake setup etc so while he paid for the parts, I provided the labour. The build was delivered under a year which is lightning fast compared to my VR4!! The goal was to build a high horsepower cruiser with luxury in mind.
4GT: How long did the build take?
Bazeng: I had the engine built at Springy Motors with all the spares I had in the garage. The spares included a set of Wiseco forged pistons, Eagle rods, Tomie headgasket, ARP headstuds, race prepped/grubbed screwed 100mm hyundai crank, hks timing belt, aeromotive fpr, 1000cc sard injectors. The build was completed by myself and Springy Motors.
4GT: Does the car struggle getting the power to ground with the current setup
Bazeng: With the current setup the AMG makes 280 kws at the front wheels on pump fuel and 20psi of boost. The same setup in my VR4 made 330kw's at four wheels on pump fuel and 24psi of boost. Mind you my VR4 had a bit more headwork and a water to air intercooler. I'm sure the AMG will make it into the 300kw range with a few more psi. It currently spins the wheels when coming onto boost from 1st gear to 4th. That is with a kaaz front mech LSD and 225 wide KU31 rubber. We currently have a set of 17x9" rims with some hoosier drag radials to go on next time we take it out to the track. Hopefully some suspension tweaks and the new rubber will get it into the 11s and make it the worlds fastest FWD galant.
4GT: What is your most favourite modification that you have done to the car to date?
Bazeng: My favourite has to be on the electrical side. All wiring has been done via the stock loom. Absolutely no chopping of the stock loom was done. Visits to the wreckers allowed us to use the stock connectors to connect to aftermarket sensors / electrical devices. The stock loom supports the Active Exhaust system, wbo2 module, motec sensors, mach valve and stock idle control. Currently the Motec M4 ecu does not support the 4 speed stepper motor that Mitsubishi utilises so I had to use the stock Mitsubishi ECU to simply control the idle. The stock ECU currently reacts to air con requests and ps switching. Previously the engine would stall without the idle motor working which was not fun to drive at all. It now idles at approx 1000-1200rpm with the 272 cams. The best part was figuring out that in order for the stock ECU to activate idle control, it needed an air flow signal. In order to provide this, I built a wave generator and simulated a square signal to feed the stock ECU. It currently idles nice when warm, the next issue is cold start........ it never ends!
4GT: The interior in this thing is divine, care to enlighten the history behind it - and explain in a bit of detail what has been done?
Bazeng: The interior originally came from the first 10 second Galant in Australia. Some of you might know BCNYA. This particular VR4 was being built into a 9 second drag car and was stripped out in order to place a 6 point ANDRA spec roll cage. The owner of this car had decided to sell up, so the AMG got the interior and my VR4 got the gearbox. The rest of the parts were either sold or kept as spares. The interior consists of late model Lancer Evolution recaro seats retrimmed in black leather and retrimed stock VR4 rear seats. The door trims were given a makeover with black leather and felt to match.
4GT: Did you always plan for your car to turn out the way it has?
Bazeng: There are a few changes that still need to be made, but for the moment it is pretty much complete. It still needs an airbox, plumback hose, new front speakers and a better stereo headunit. Overall the car has turned out pretty much the way we set out to make it.
4GT: Next moves for the car?
Bazeng: Big slicks, race tune, 11 sec timeslip!
SPECIFICATIONS
ENGINE
--------------------------------------------------
2.3L 4g63
Custom wiseco forged pistons
Eagle forged rods
ARP head bolts
ARP main studs
Kiggle mains girdle
Springy Motors oil pickup
Evo8 squirters and valves
Hyundai G4CS crank - race prepped by Springy Motors
Tomei MLS head gasket
Stock VR4 head
Crower valve springs
Crower Ti retainers
HKS 272/272 cams
3Xe cam gears
AMG intake manifold
AMG stock tb with FIAV blocked off
VR4 fuel rail with welded -6 feed
1000cc power enterprise injectors
aeromotive fpr
walbro 255 intank pump
bosch fuel filter
-6 fuel lines in engine bay
Custom gt30 power ported turbo
ceramic coated custom exhaust manifold
turbo beanie
3" dump pipe with wastegate plumback (rob evo spec)
tial v44 external gate
4" cat back custom Springy Motors exhaust
AES system
Custom intercooler piping (plazmaman / springy motors / bjp spec / x3e)
ARE front mount intercooler
HKS SSQV plumback bov
K&N air filter
BJP Custom 4" intake pipe
DRIVETRAIN
--------------------------------------------------
VR4 rs gearbox
TRE centre spool
kaaz 1.5 way front lsd
Springy Motors inspected and assembled
Direct clutch twin plate
braided clutch line
SUSPENSION
--------------------------------------------------
Hotbits DT2 coil overs
Hotbits camber plates
Polyurathane bushes all round
Stock front sway bar
CHASSIS
--------------------------------------------------
Stock
WHEELS
--------------------------------------------------
Racing Hart 18x7.5"
Custom paint by kaotik
KU31 tyres
EXHAUST
--------------------------------------------------
3" custom turbo to cat (purchased off rob evo)
4" custom cat back AES valve and mufflers. Metal cat.
ELECTRICS
--------------------------------------------------
M4 pro with logging and o2
Mitsu GSR ecu
AES control unit
Innovate LC-1
BRAKES
--------------------------------------------------
Camaro 330mm front calipers
Braided brake lines all round
stock rear calipers
RDA drilled and slotted rotors
Metalaxed treated rotors
Motul 5.1 fluid
EXTERIOR
--------------------------------------------------
Stock
New AMG badges from SIVART (mitsu)
Resprayed stock colour by Kaotik
INTERIOR
--------------------------------------------------
Custom retrimmed seats
Evo5 front recaro
Custom retrimmed doors
PERFORMANCE
--------------------------------------------------
Power: 280 kw @ front wheels
1/4 Mile: 14.1 @ 119 mph with 2.8 60 ft. (first time out) damaged a CV from wheel hop.
Special Thanks to:
--------------------------------------------------
Danny, Peter and the guys @ Springy Motors for the engine build, dyno tuning and fabrication.
Barry @ BJP for fabrication
Ivan @ X3E for silicone hoses and clamps
Travis (SIVART) at Knox Mitsu for mitsu parts
gvr4.org for tech info and support
Jamie A and Jason (Jaz-1) for Motec tips
Scott (ozvr4) for audio
Jurrel (Kaotik) for paint work
Rob (robevo) for picking his brain and parts
Rob (evo-oox) for gearbox info
Dre (clutz) for parts and wheels
Jase (Jase) for checking out the car in Adelaide
&
4Gtuner for all the support